New Jimny conversion program that mimics the Mercedes-Benz G-Class AMG
After the birth of the new Jimny, it has been modified in many cases, and most people are more inclined to make it a "mini version of the Mercedes-Benz G-Class", and JII-POWER's work obviously adopts this modification key, but it is also relatively powerful, directly imitating the Mercedes-Benz G-Class AMG.
It is not difficult to find after comparison, whether it is the overall square shape or modified details, it is indeed a bit similar to the Mercedes-Benz G-Class AMG, and the most impressive thing about this kit is that the details are handled quite well, so it can be said to do everything that can be done.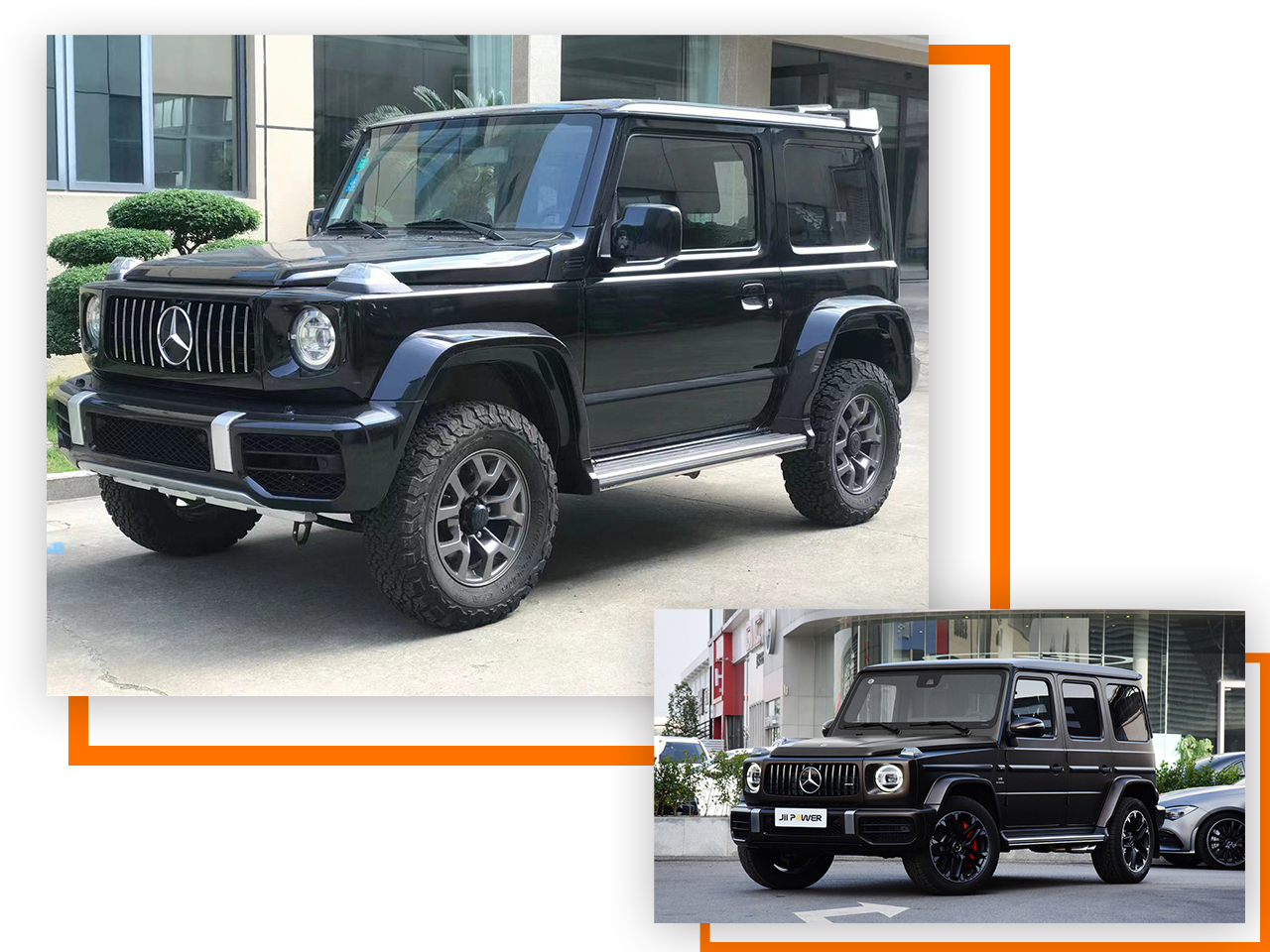 Its front is extremely similar to that of the Mercedes-Benz G-Class. Those who don't know about cars are likely to mistake Mercedes-Benz for a new mini version of an off-road SUV.



The style of the headlights is also the same as AMG, while the hood with turn signals is very evocative. while some ordinary imitation will be too much trouble without changes.



The central grille still mimics the design of the Mercedes-Benz G-Class AMG, which has a near trapezoidal shape with varying degrees of curves on all four sides and is well handled in this detail. Together with the chrome grille is very atmospheric



The design of the front surround is also imitated, while the details have their own unique design. In terms of size, it is close to the original in height, but significantly wider.



As for the reason for modifying the front surround to be wider, it is obvious to match the modified wide body kit. The front bumper, rear bumper, wheel brow, and side steps are very integrated.



This set of wheel brow they throw outward more exaggerated than Jimny Sie rra's, can effectively enhance the appearance of the aesthetic, but is also suitable for matching the ultra-wide modified wheels.



The side steps, although of average design, are able to connect the front and rear wheel brow well, enhancing the sense of integration between the exterior and the body. Its surface is made of stainless steel and hard plastic, while the interior conceals steel tubes.

The rear part of the car is less similar, after all, the tail lights, high brake lights, and other such positions are fixed, but you can still see that JII-POWER is trying to imitate as much as possible in the details.
After replacing the rear bar, the original tail lights have been replaced by modified taillights, which are also similar in design to the G63 and feature LED lighting.
Although it is an imitation of someone else's work, but from the analysis of the effect of the finished product and the level of attention to detail, it is an excellent and recommendable work.